An unforgettable race characterized by a special helmet. Unique graphics, worn on one occasion and never previously replicated.

The fifth set of graphics from the "Vale's helmets" project replicates the one the Doctor used for the 2007 Dutch Grand Prix in Assen, a hard-fought race that resulted in the 87th first place of Valentino Rossi's career.

An unforgettable race characterized by a special helmet. Unique graphics, worn on a single occasion, to celebrate the 50th anniversary of the legendary FIAT 500.

The graphics, created by Aldo Drudi, are a tribute to the music and icons of the fifties and sixties – a vinyl record, a brand-new, all-singing, all-dancing version of Valentino, doing the twist guitar in hand, as "Valentino and the Chihuahuas". It's all set in graphics featuring pastel, pink and blue shades, a surprise on a racing helmet.

The graphics were worn only once and never replicated, but are now available as a limited edition on the most advanced racing helmet in the world. The replica helmet will be produced in 2,007 pieces. Each helmet will be delivered in a specially made pack containing a letter written by Valentino Rossi. In the letter, he explains first-hand the ideas that led to the creation of the graphic, and he shares memories and emotions generated by the specific race he wore it at. The 46th exemplar of each replica will be given to Valentino for his private collection. Fans, collectors, and enthusiasts won't want to miss this unbeatable opportunity to own, wear, and preserve a unique piece from the history of the World Championship that recounts the legend of one of the greatest athletes in the history of this sport.

Shop Now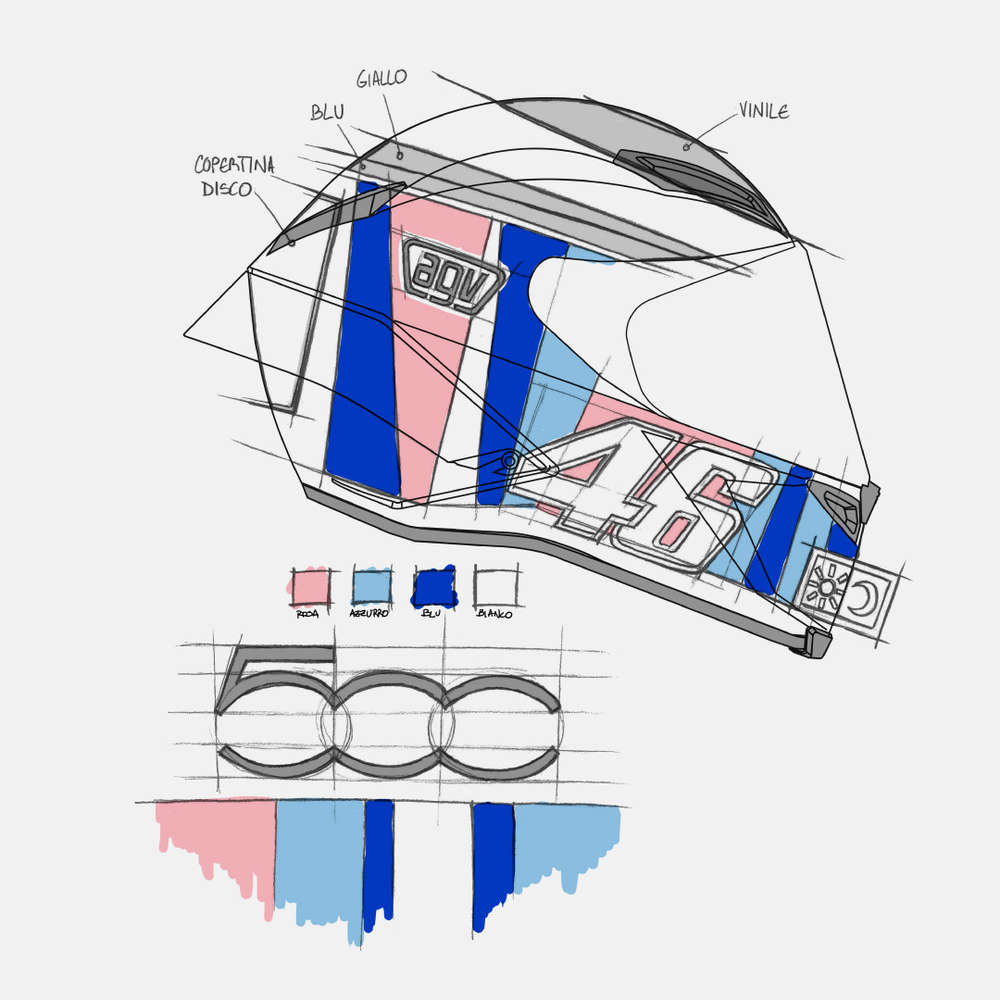 AN ITALIAN STORY
To celebrate the 50th anniversary of the legendary Fiat 500, graphics featuring pastel, pink and blue shades, a surprise on a racing helmet.
Shop Now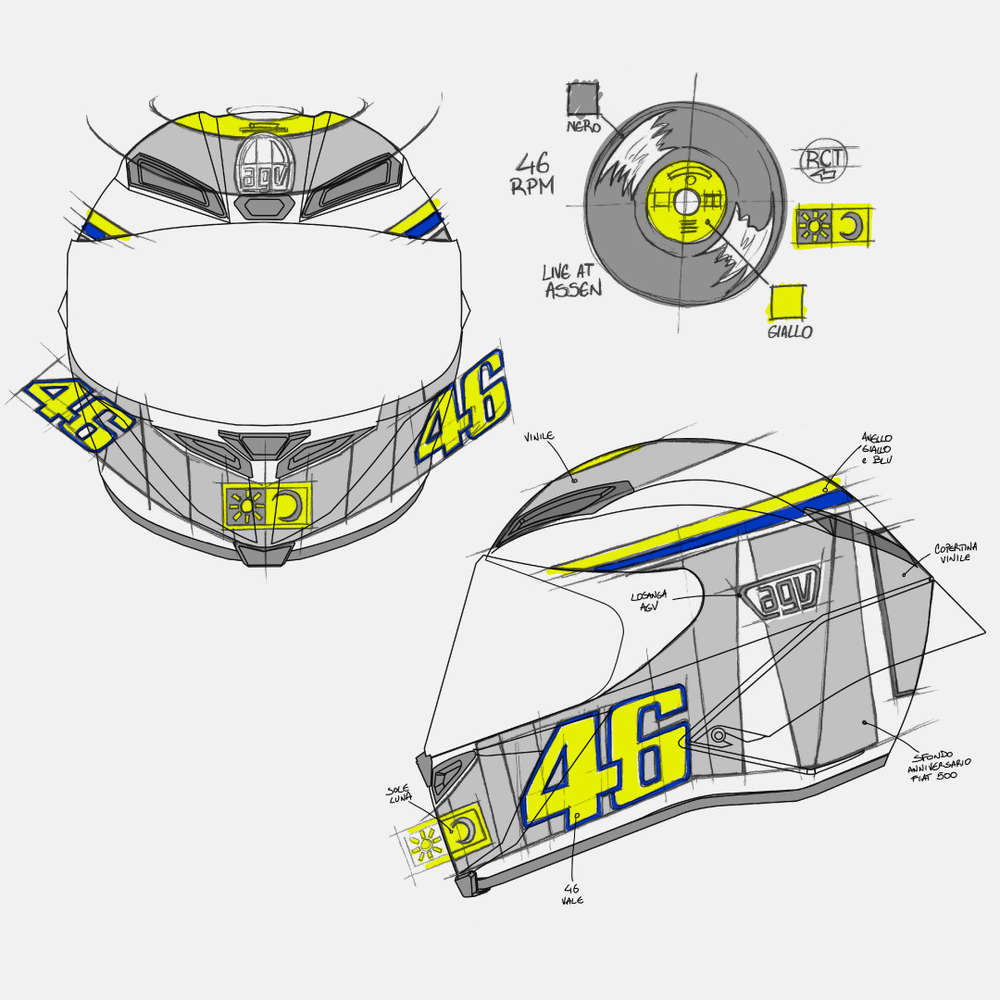 VALENTINO'S SYMBOLS
The Doctor's iconic stamp, the Sun and the Moon, alongside the symbolic number 46 featuring the unmistakable yellow and blue.
Shop Now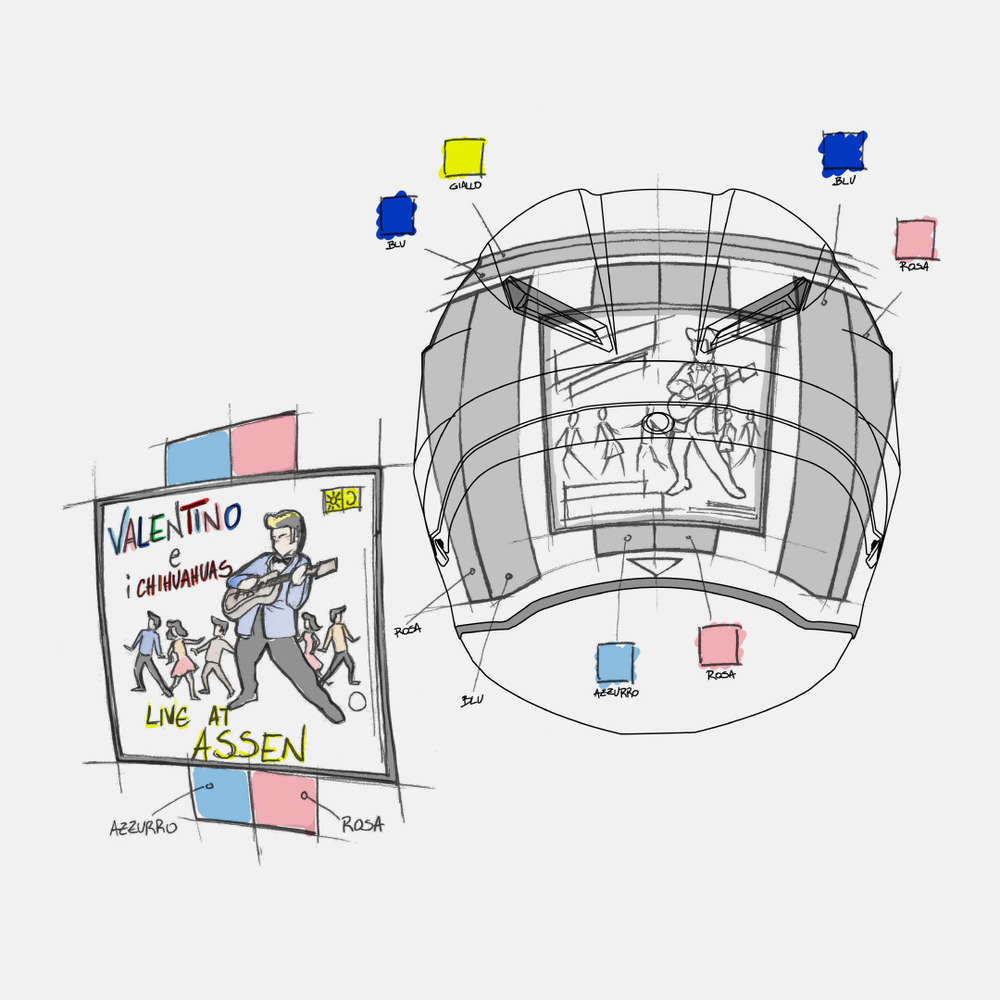 A CELEBRATION OF MUSIC
Tribute to the music and icons of the fifties and sixties: a vinyl record, a brand-new, all-singing, all-dancing version of Valentino, doing the twist guitar in hand, as "Valentino and the Chihuahuas".
Shop Now