Every AGV helmet has to excel in terms of protection, performance and comfort. Beyond regulations and what's expected, attention to every detail is an obsession, one that stretches the meaning of perfection ever further.
That's how Extreme Safety came into being. This exclusive AGV design protocol ensures the ultimate balance of all components through the manufacturing processes, choice of materials and functional design, so that the end product outperforms certification requirements.
Setting new safety standards, not just following them: that's how legends are made.
IMPACT PROTECTION
We set new safety standards. We don't just follow them.

AGV helmets are designed to outperform homologation requirements and offer a higher level of safety. AGV ensures this by performing tests that subject them to much greater stress than certifying bodies.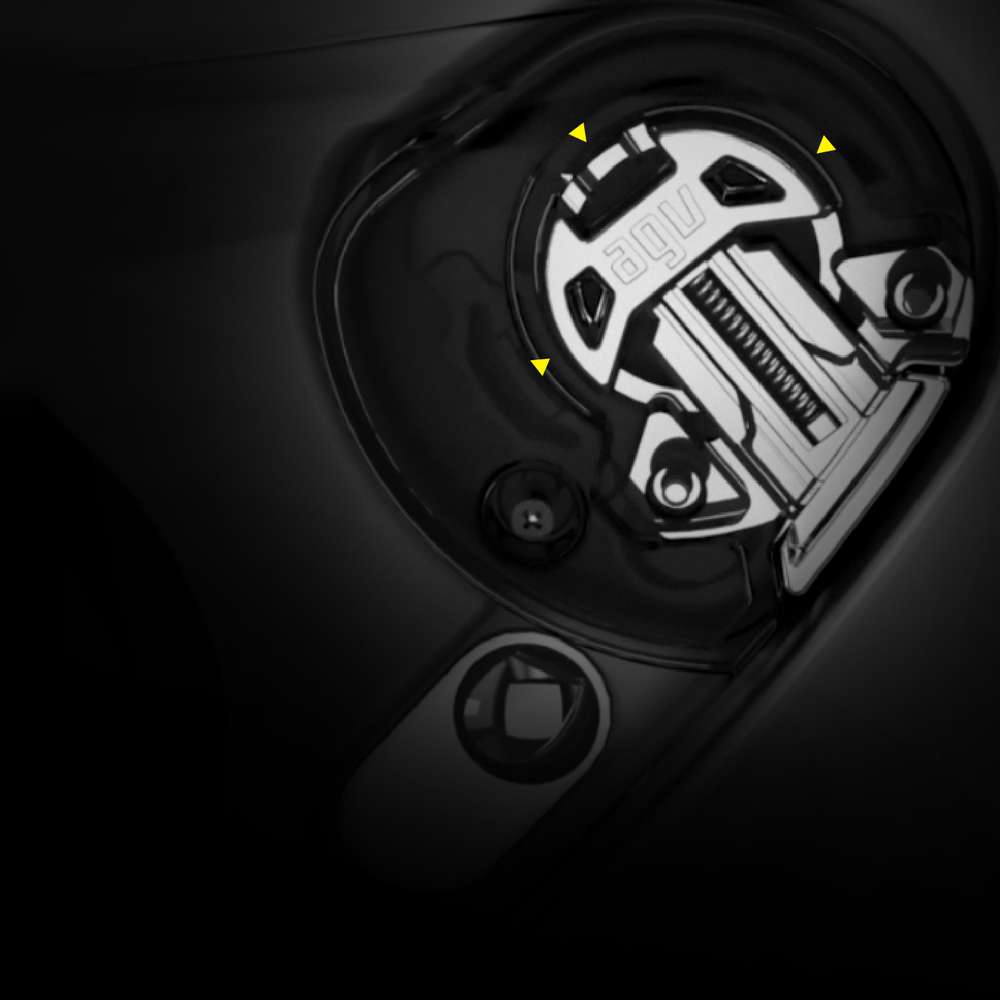 +

SIDE PROTECTION

We're obsessed with designing the smallest possible visor mechanisms. It's not about aesthetics.

The visor mechanism can't be covered by the shell or EPS liners, making it a weak point in the event of impact. At the same time, a very small mechanism allows a visor that's wider at the sides to be fitted, thus increasing peripheral vision and the ability to see obstacles and potential dangers that could affect the bike.

AGV helmets have visor mechanisms up to 70% smaller than the market average. Safety is not a detail. Every detail makes the difference.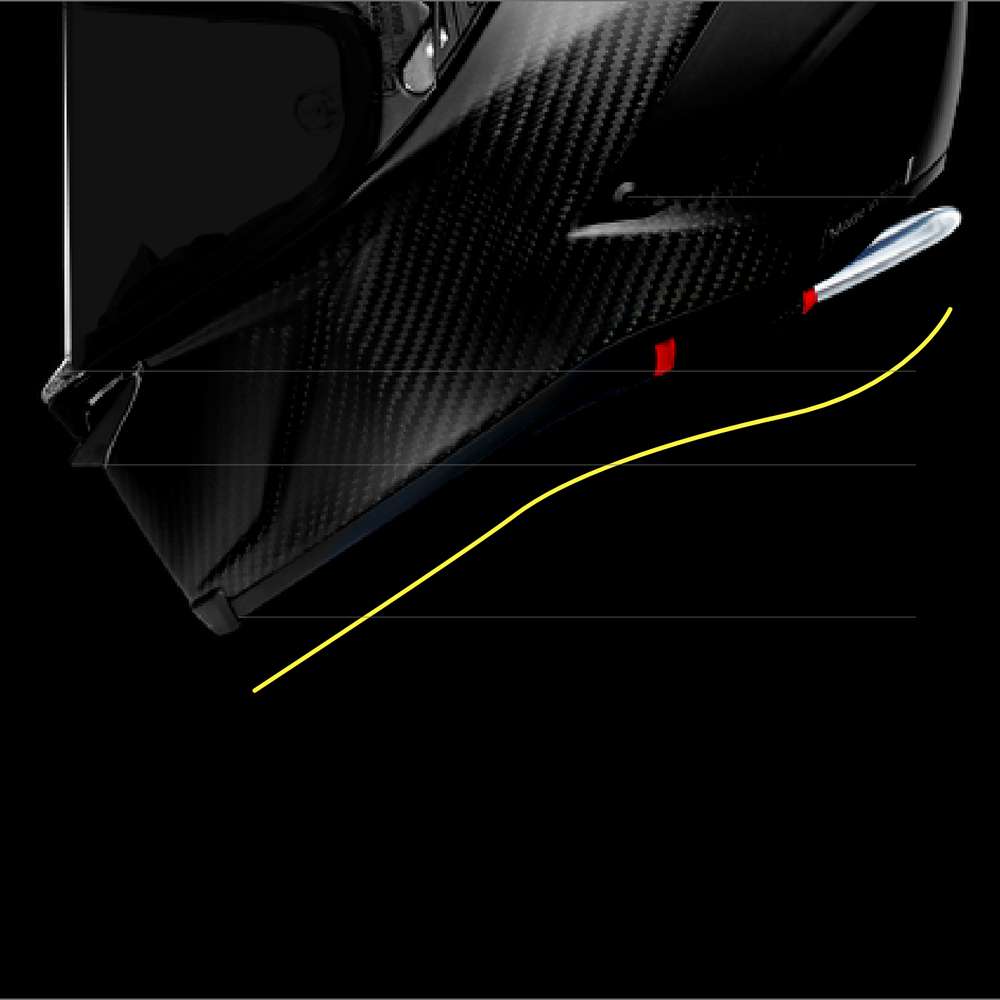 +

COLLARBONE SAFE PROFILE

AGV was born out of the world of racing, where speed and extreme conditions make safety even more crucial, so that champions can get past both each other and their own limits.

AGV invented a special collarbone safe profile now copied by many in racing. It allows a considerable reduction in the risk of the helmet injuring the collarbone in the event of impact. This solution created for the track is now available to every rider on the lookout for perfection.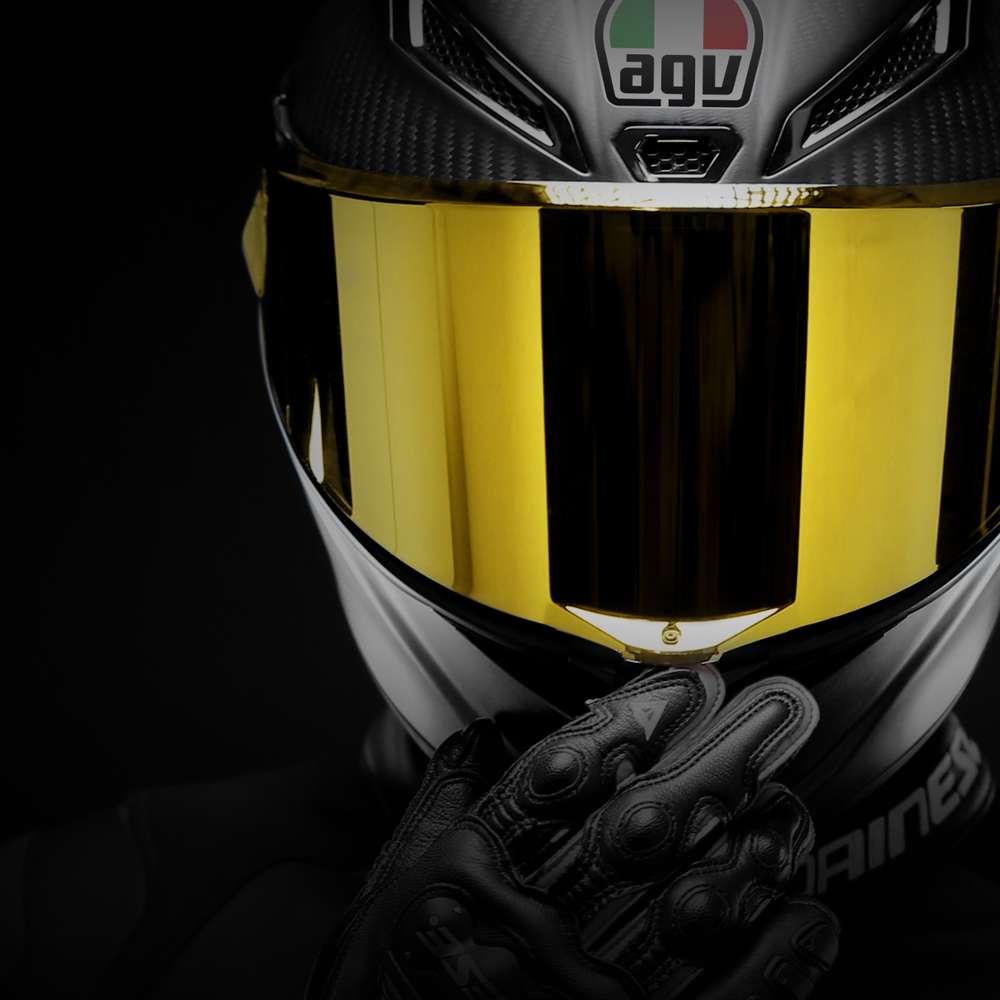 +

FACE PROTECTION

Visors on AGV helmets are up to four times as thick as an average standard visor. They are an integral part of the helmet's protective system, not a weak point but a shield against impact.

That's why, in addition to being extremely solid, they feature small, tough mechanisms and adopt a central fastening system with safety lock to prevent the visor from coming off after crashes or falls. It's the same technology used in MotoGP™.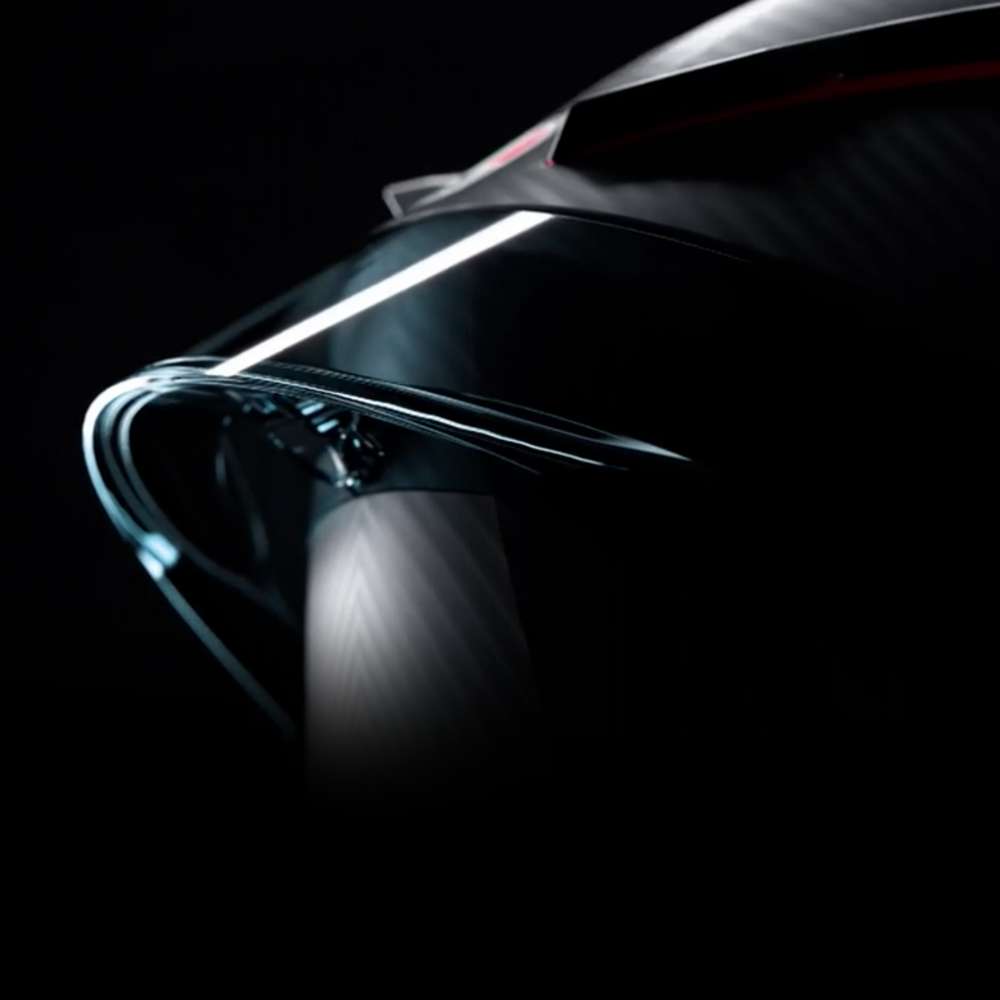 +

SAFETY IN SHAPE

In more than 70 years of experience at the highest levels of world competition, we've seen the difference that can be made by a helmet that's aerodynamic and stable even at high speeds, which minimizes neck fatigue.

That's why we were the first to design shaped helmets fitted with aerodynamic appendages to cut through the air. This performance upgrade takes absolutely nothing away from the safety. AGV spoilers are designed to detach or break in a controlled way in case of impact. This allows a spherical shape to be maintained when and where necessary, limiting the energy generated by impacts.
ULTRAVISION
Unhampered vision allows complete control.
The smaller visor mechanisms and shape of the shell do away with a limitation common to most helmets on the market. AGV helmet construction allows peripheral vision up to 190°.

This amazing achievement lets you see what's happening at the edges of your visual field earlier and better: obstacles, corners, vehicles, the competition. Control means safety and confidence.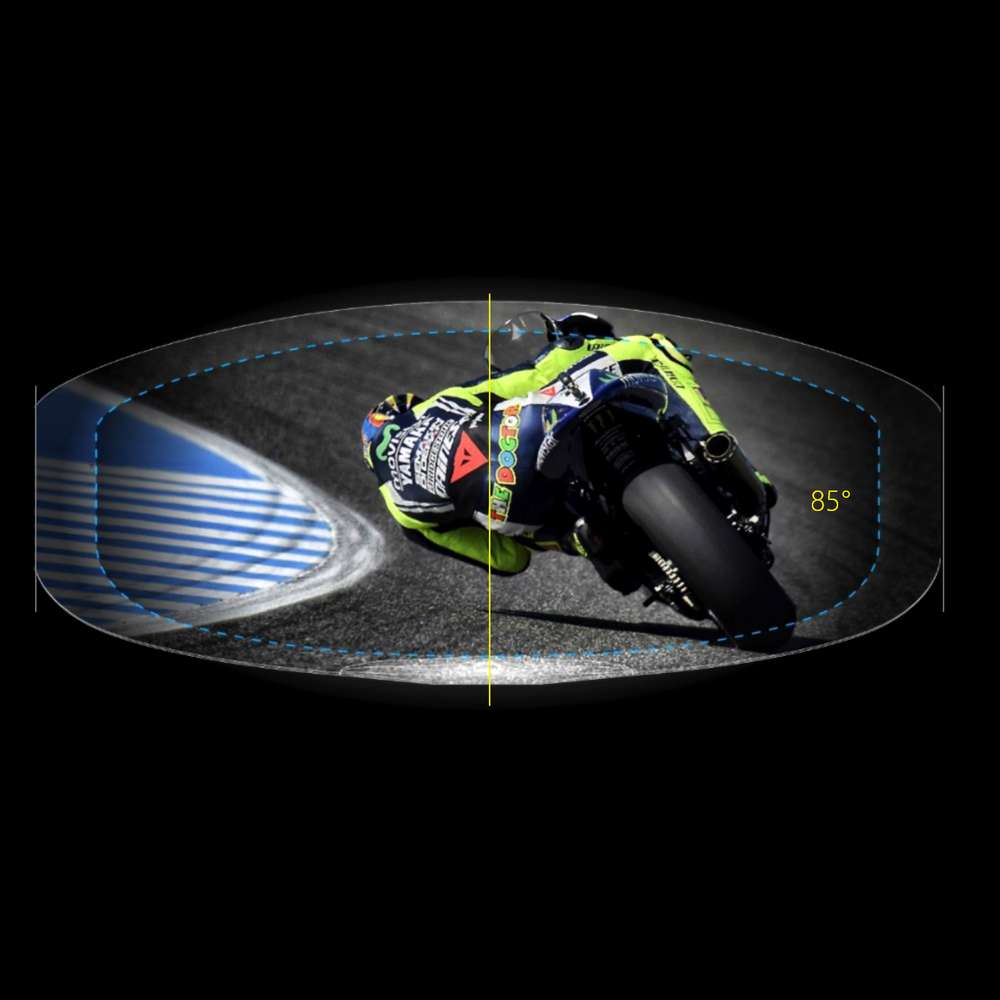 +

VERTICAL VISION

Professional riders know better than anyone else that, when you're tucked in, your eyes need to be directed upwards to see what's going on around you. In that position, the top edge of the helmet is a limitation on the visual field, often a very dangerous one. Many use handmade solutions to raise the helmet, so that safety takes second place.

AGV helmets are designed to guarantee a greater vertical visual field than an average helmet, optimized according to the riding position associated with the helmet type, be it racing, sport or touring. This decision increases performance and control, to look beyond obstacles in safety.
+

VISUAL QUALITY

Visors are curved lenses, which can create distortions that result in mental fatigue at the level of the brain and compromise performance, just like a bad pair of glasses.

AGV helmet visors are in Optical Class 1, the highest possible. This guarantees that reflection and distortion are eliminated, for greater visual quality. Using an Optical Class 1 visor means that your brain receives accurate visual information. Clarity and depth of vision means concentration, precision and quick reactions.
Safety is also in the eye of the beholder.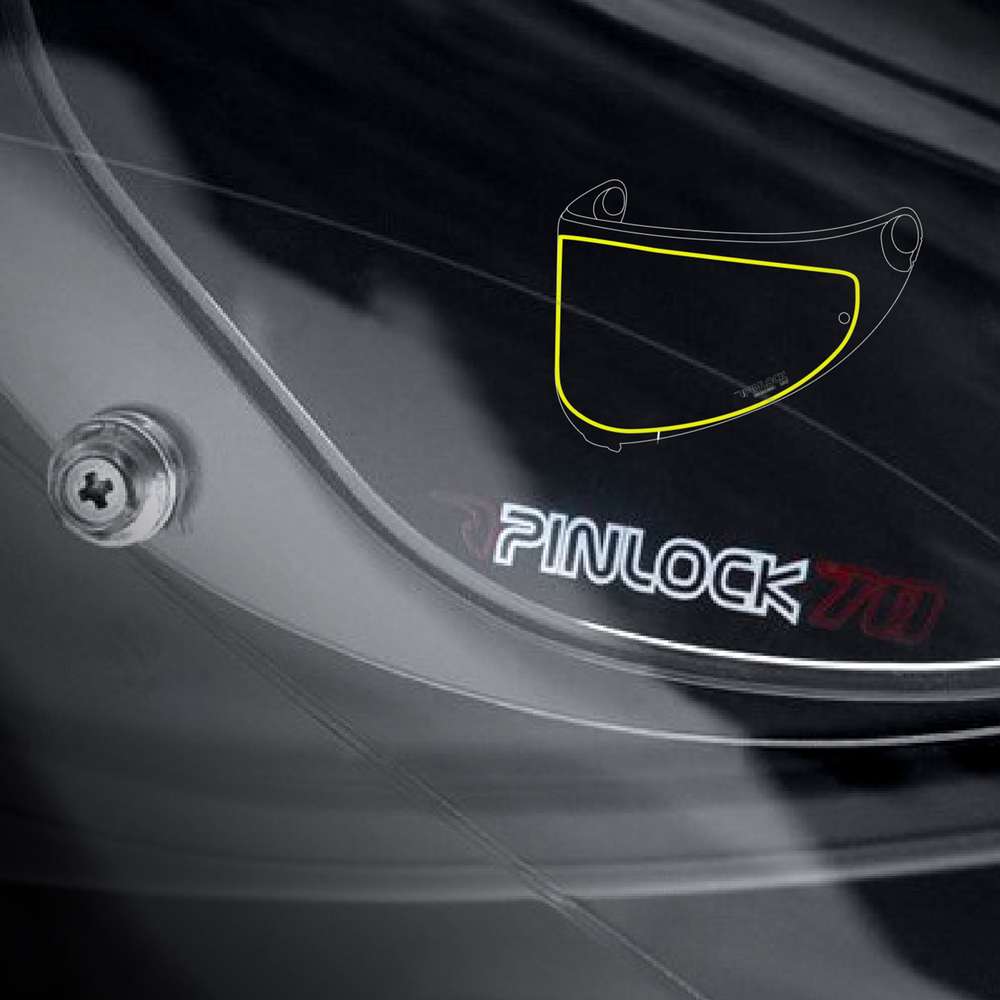 +

ANTIFOG PERFORMANCE

AGV visors are equipped with Max Vision Pinlock® 120*. This is the latest evolution in Pinlock® antifog technology, the most effective of all. Max Vision has no negative impact on the optical quality of AGV's wide visors, so that maximum visibility is guaranteed in all conditions.

There's total control of the road, always.

*Some models may be compatible with different versions of Max Vision Pinlock®.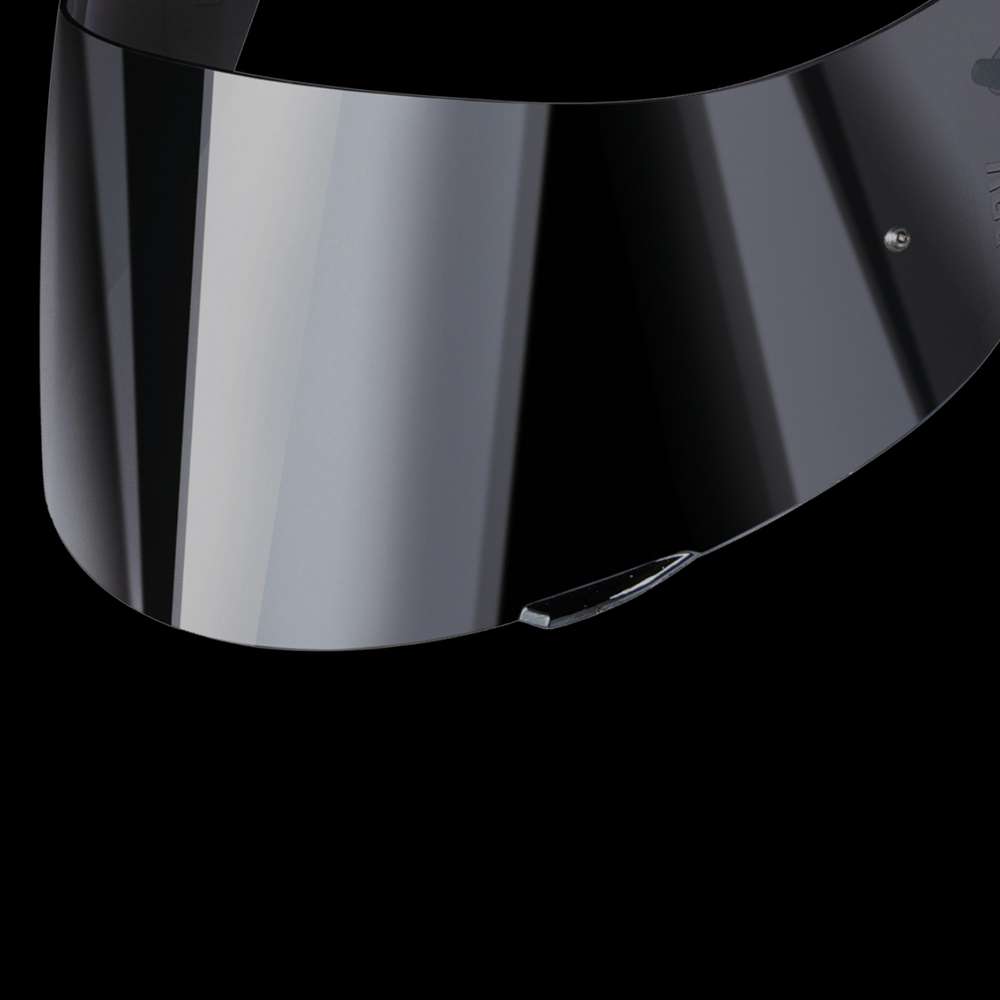 +

THE VISOR

AS SHIELD

The latest generation of AGV helmet visors are designed with a metal central fastening mechanism. With technology developed to protect MotoGP™ riders, it locks in the event of a fall, securing the visor to the helmet and minimizing the risk of opening.
The visor offers protection like a shield.
DESIGNED TO PERFORM
There is balance between every component that makes for legendary performance.
The wedge-shaped chin is designed to reduce drag and cut through the air. The aerodynamic appendages stabilize the helmet at high speeds and shift the turbulence beyond the rider. Be it touring, sport or racing, every AGV helmet is designed in a wind tunnel, for stability and so that riders can be confident in all their most extreme riding conditions.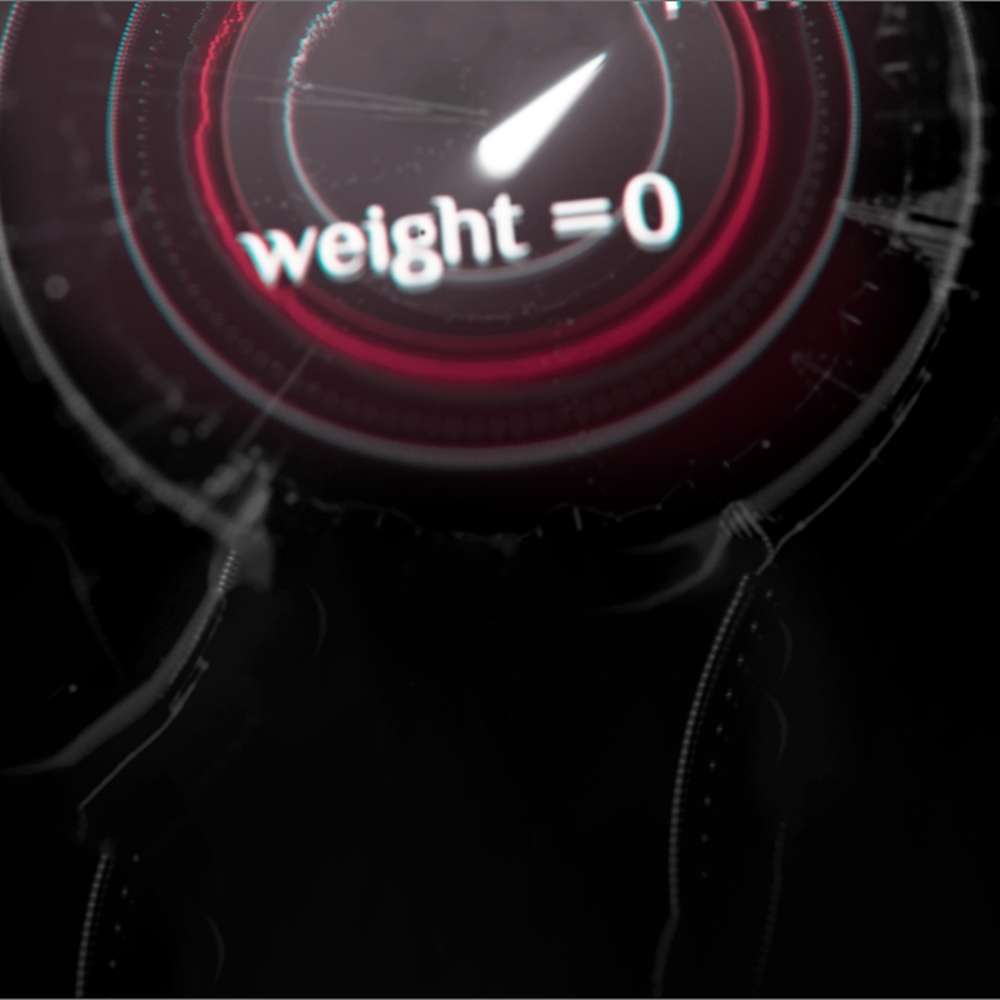 +

DYNAMIC WEIGHT

Studying different shapes in a wind tunnel makes it possible to reduce the weight of a helmet according to the speed at which it moves through a fluid like air.

Z-lift – the tendency to push up or down in motion – can be used to offset a helmet's static weight so that it literally floats.

In addition to their extremely low weight, AGV helmets exploit this principle to reduce neck fatigue while riding. For example, the K6 is already lighter at 90 km/h. At 160 km/h, the Pista GP RR is weightless.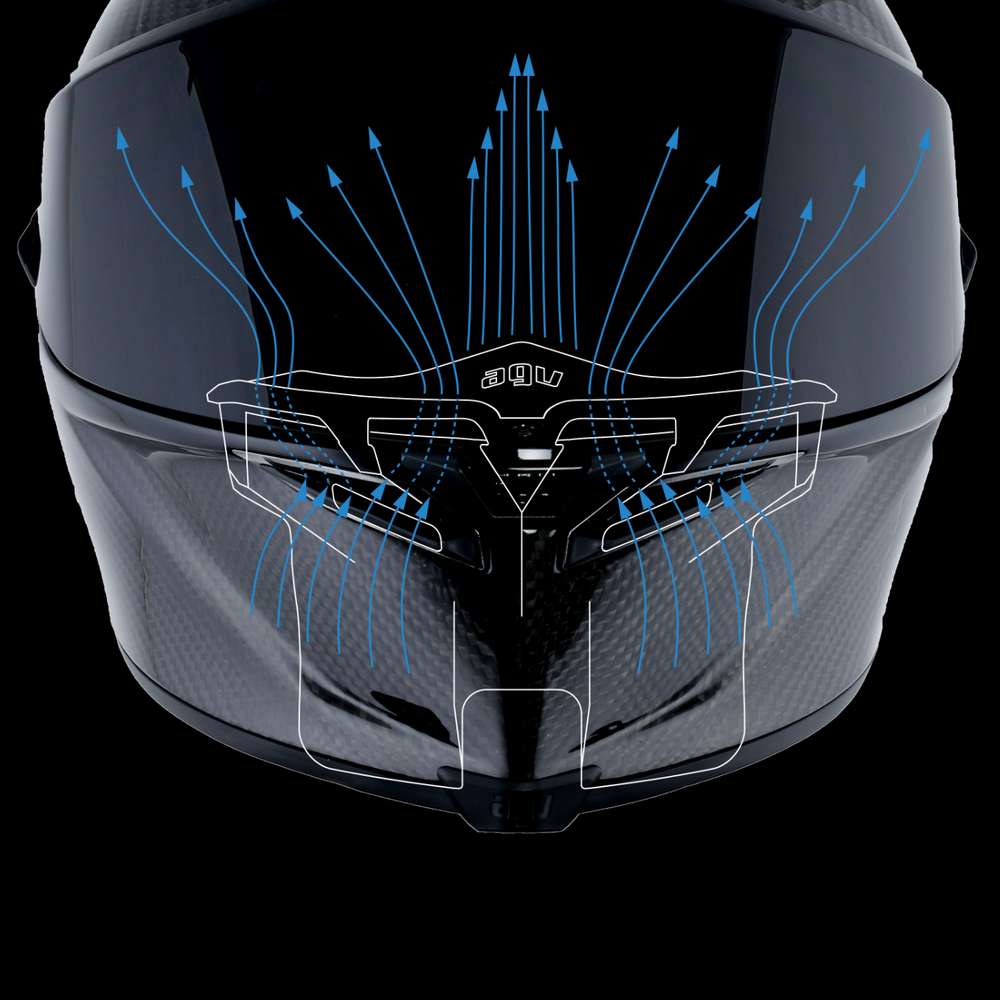 +

VENTILATION

Reinventing ventilation seemed like an impossible task.
We did it by taking into consideration the speed of the air passing through the helmet, not just the amount.

The front air vent – a distinctive feature of AGV helmets – exploits the point of the helmet where the impact of air flow is greatest to generate high intake pressure. The ducts on AGV racing helmet chinguards, as on the Pista GP RR, increase the intake air volume in the lower part of the helmet, enhancing comfort and ventilation even in extreme conditions.
AGV helmets are designed to generate low pressure in the rear extractor area, producing a vortex effect that increases the speed of transition from inside to outside of helmet exponentially, enhancing heat transfer.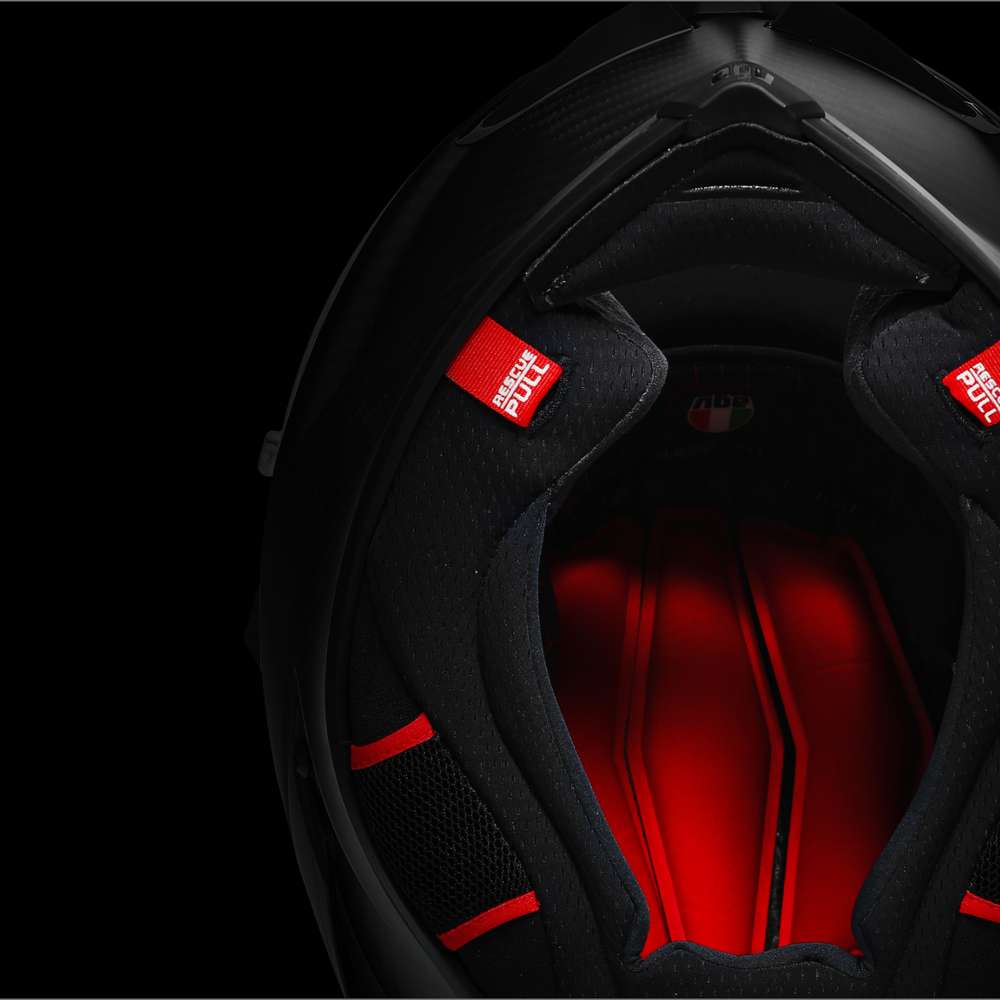 +

SUPERIOR COMFORT

AGV interiors are made using extremely high-quality materials, developed for the smoothest and most comfortable helmet fit possible. All AGV helmets are designed to absorb sweat and moisture extremely quickly, to ensure maximum comfort and concentration on the road.

The leather or fabric outer profiles are water repellent so that the inner lining doesn't get wet even in extremely heavy rain.

Customization is a characteristic that pushes an obsession with details even further. The patented AGV reversible crown pad allows a choice of warm fabric or a cooler one, according to the climate and the rider's preferences. 17 different internal thicknesses for the exclusive 360° Adaptive Fit system on the Pista GP RR mean that the rider can configure the inside of the helmet right down to the smallest detail in keeping with their preferences and riding style.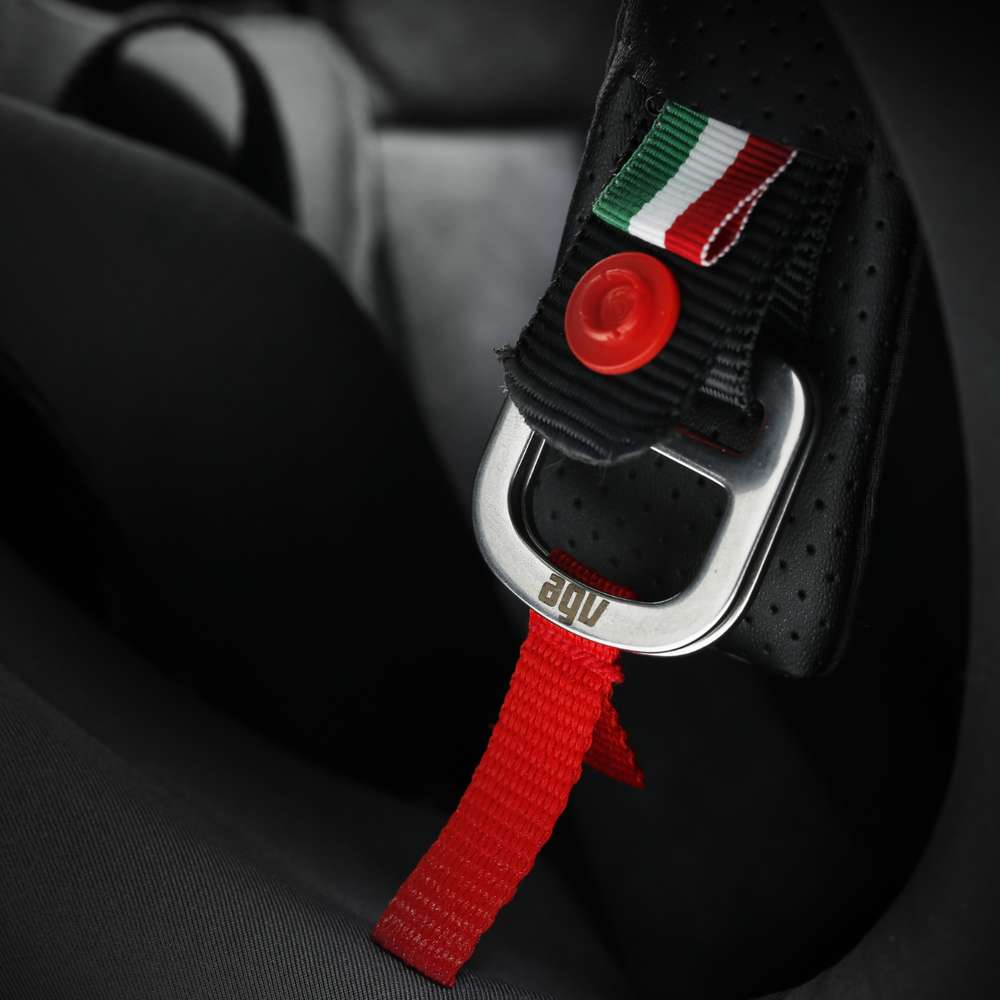 +
RESEARCH INTO MATERIALS
It isn't enough to choose refined raw materials and advanced components. Every component, every mechanism and every detail is designed to be as effective as possible in concert with the others and provide the very best performance in all conditions. So using carbon fiber in the shells and titanium in the double D fasteners, both light and highly resistant, makes it possible to adopt metal alloy air vents. They're heavier but definitely tougher than the classic plastic vents. Or there's the option of an integrated hydration system, like the one used in MotoGP™. This means that the helmets always have the very lowest weights in their categories.

This is the real essence of AGV. This is the authentic perfection of obsession.