THE ULTRA-SAFE MODULAR HELMET FOR ENDLESS JOURNEYS.
WITH INTEGRATED DMC COMMUNICATION SYSTEM.
More than a modular helmet, as safe as a full-face helmet. A shape providing maximum comfort, designed for the utmost protection. Because every road is an adventure.
Shop now
PROTECTION FOR ENDLESS JOURNEYS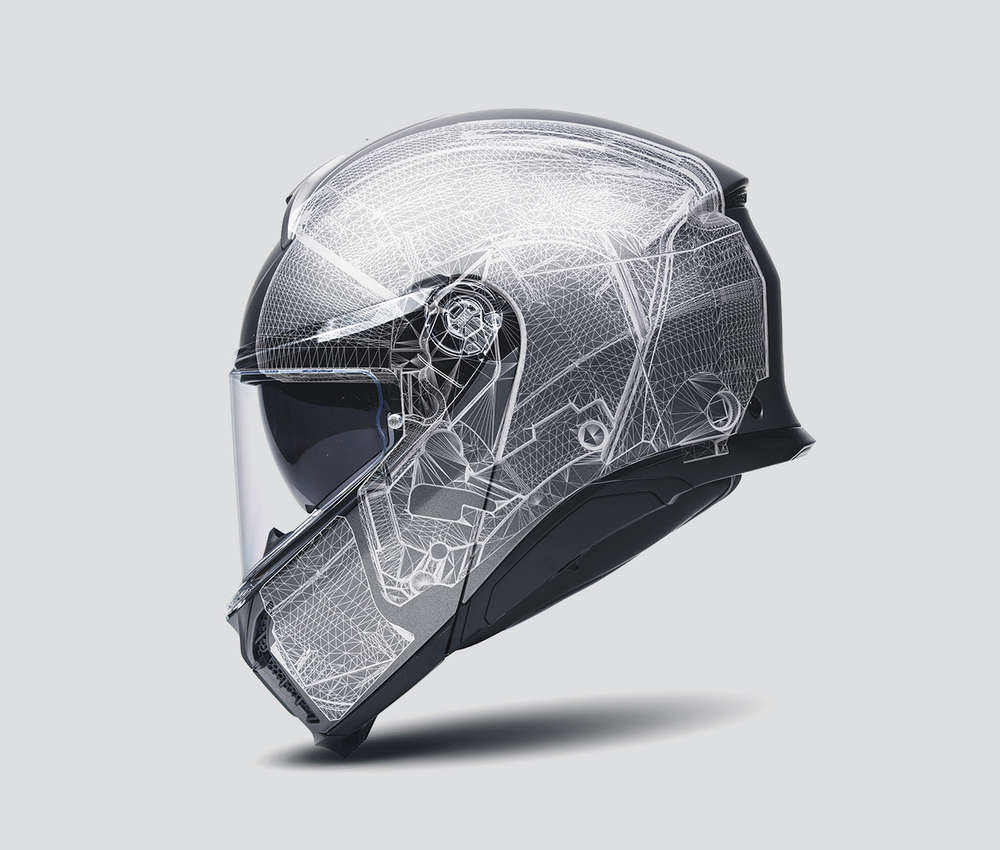 DEVELOPED WITH YOUR HEAD IN MIND
A new level of safety for touring. Tourmodular was created as a result of the AGV Extreme Safety protocol, which encompasses over 75 years of experience in protecting the most fundamental part of the human body. Designed to protect. The freedom of riding on long and endless stretches, in all conditions.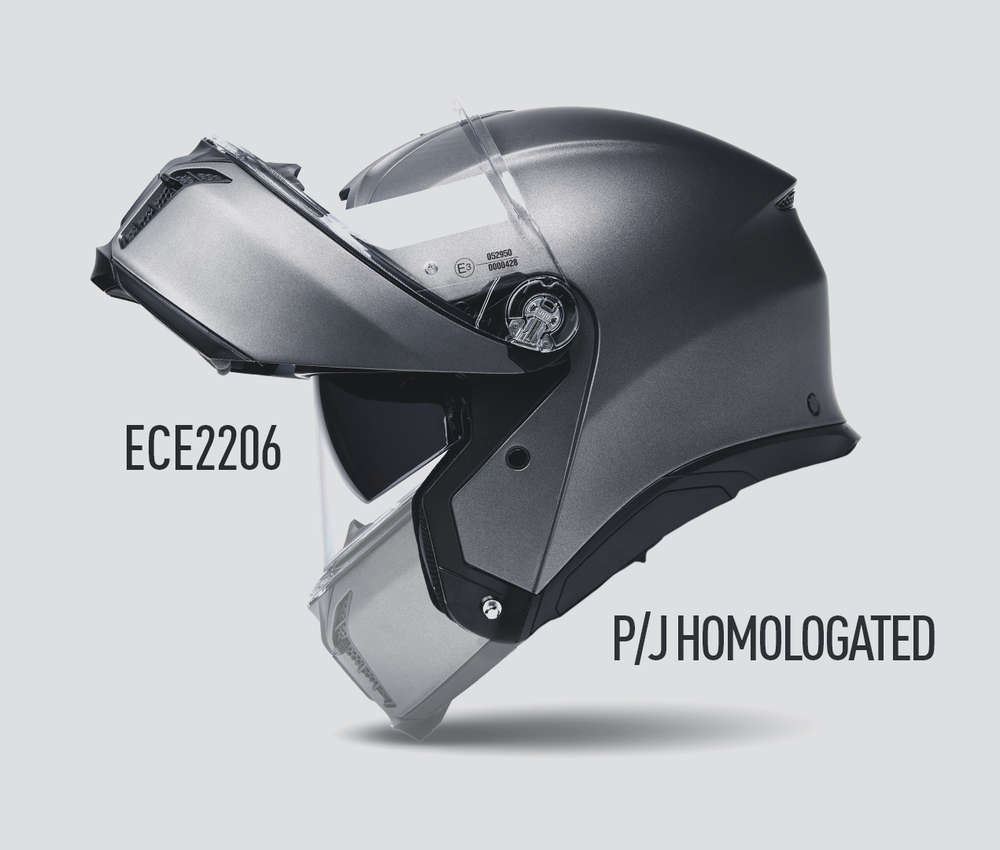 CERTIFIED FOR EVERY SITUATION
We made it ourselves, so we know that although Tourmodular is ECE2206 certified, in actual fact it provides much more protection than that, as it is an AGV Extreme Safety helmet. Moreover, it's P/J homologated.

What does that mean to you?
Protection on any route, in any situation, at any time.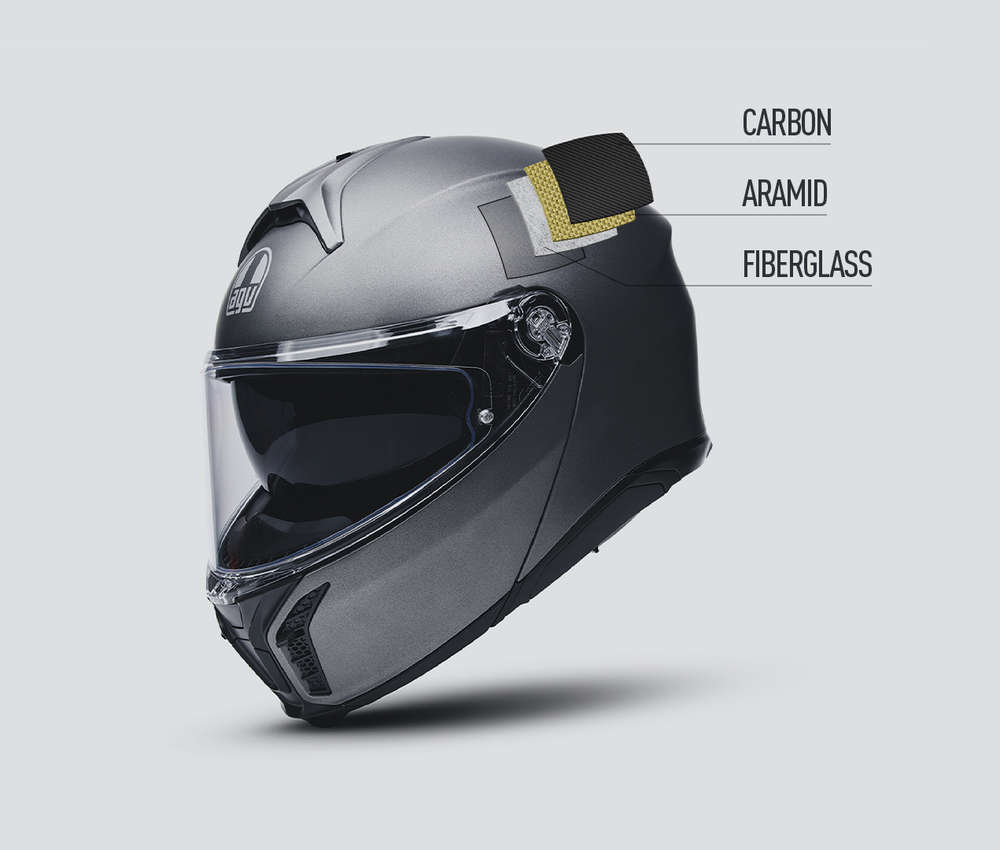 BEYOND THE IMPACT
AGV helmets embody a level of safety that's not limited to impact protection. Owing to its structure in carbon, aramid fiber and fiberglass, Tourmodular is extremely solid yet also lightweight, so that you feel less fatigue and can always keep a high level of focus on the road.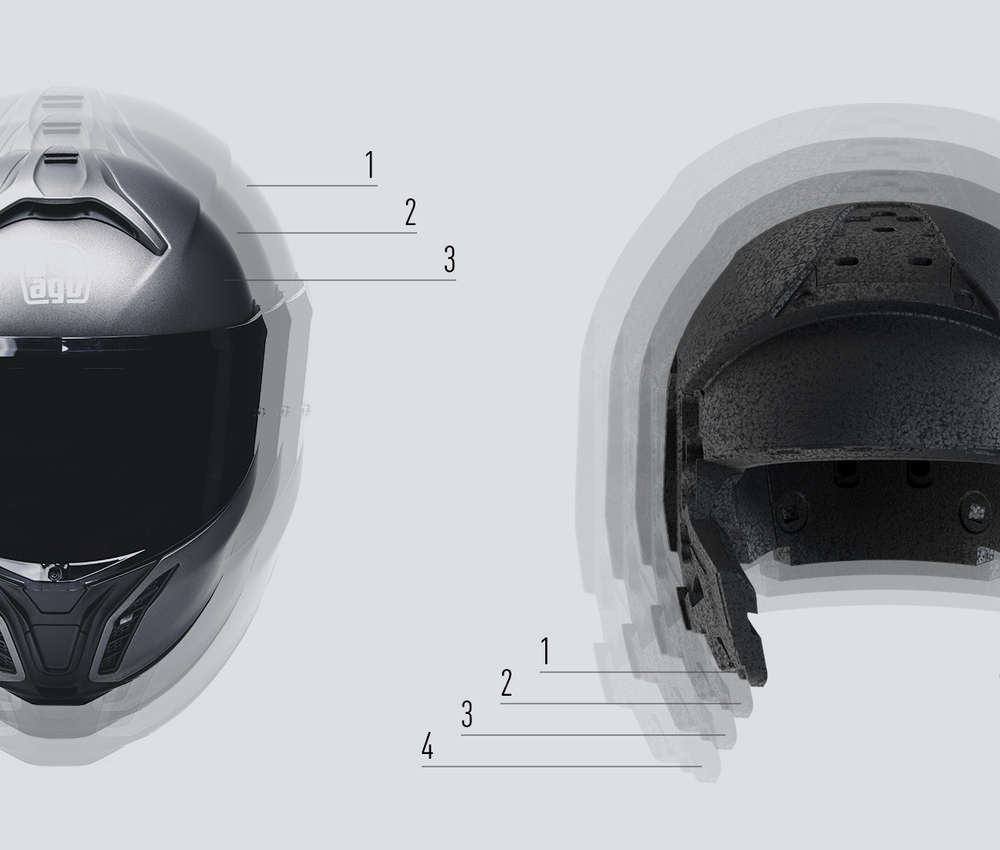 COMPACT. COMPACT. COMPACT.
Three outer shell sizes and four inner shell sizes, so that the external bulk is reduced to a minimum. Moreover, it features a five-density inner shell, so that each helmet's section offers maximum protection.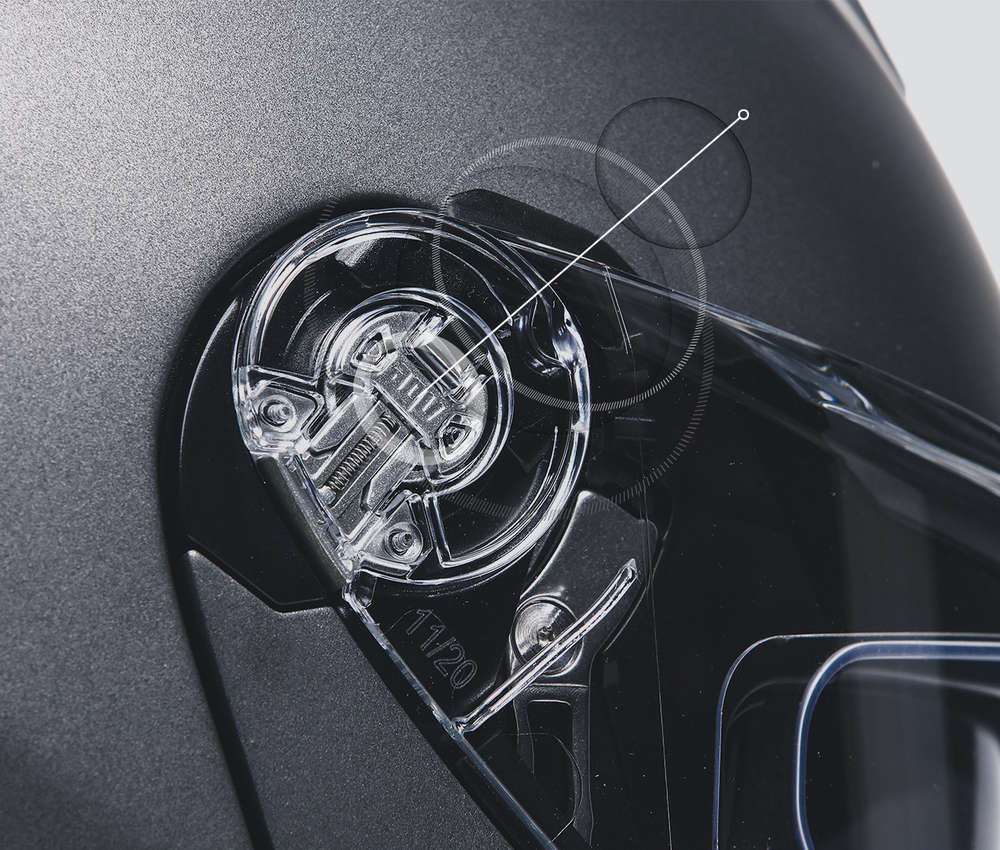 LARGE VISOR MECHANISMS? NEVER WITH AGV.
Miniaturized metal visor mechanisms. This is an AGV feature that allows you to keep the shell structure unchanged, for maximum protection even in the event of side impacts.y
Shop now
INFINITE COMFORT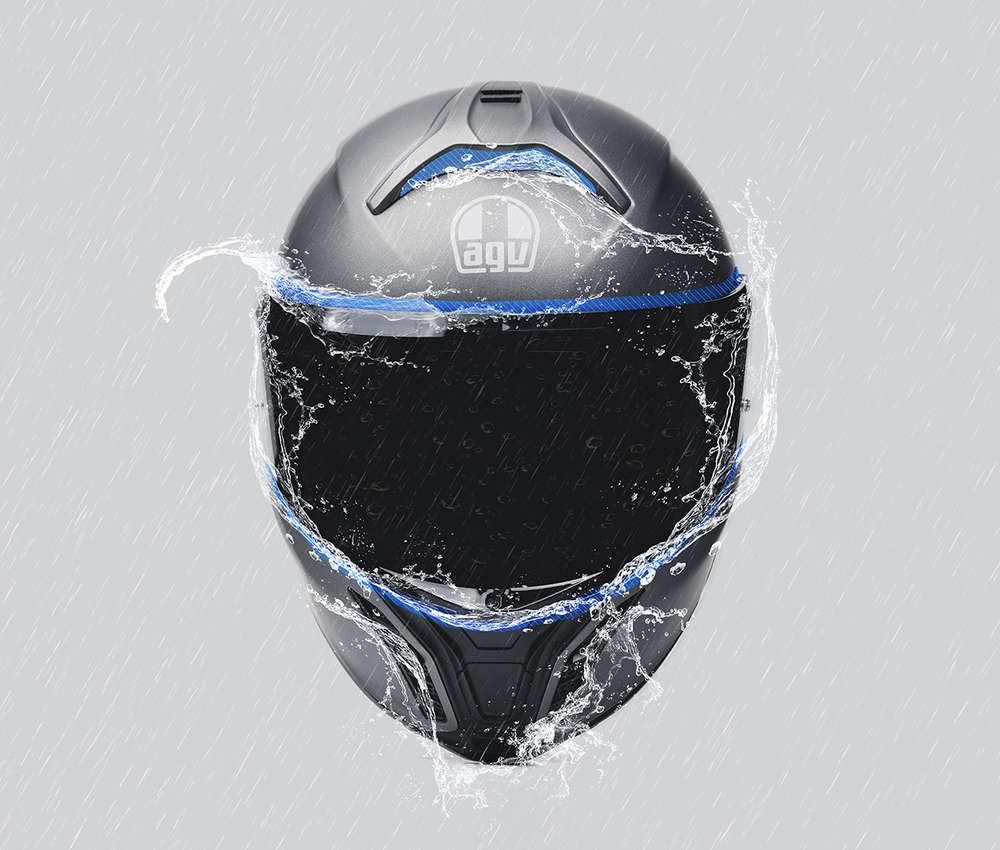 WATER AND WIND OUTSIDE, SHEER

COMFORT INSIDE
Hermetic, to keep out water and atmospheric agents. The collar and the most exposed parts of the interior are water-repellent, to prevent water from entering. With the elements kept outside the helmet, you can enjoy the sheer comfort provided by high-quality materials on the inside.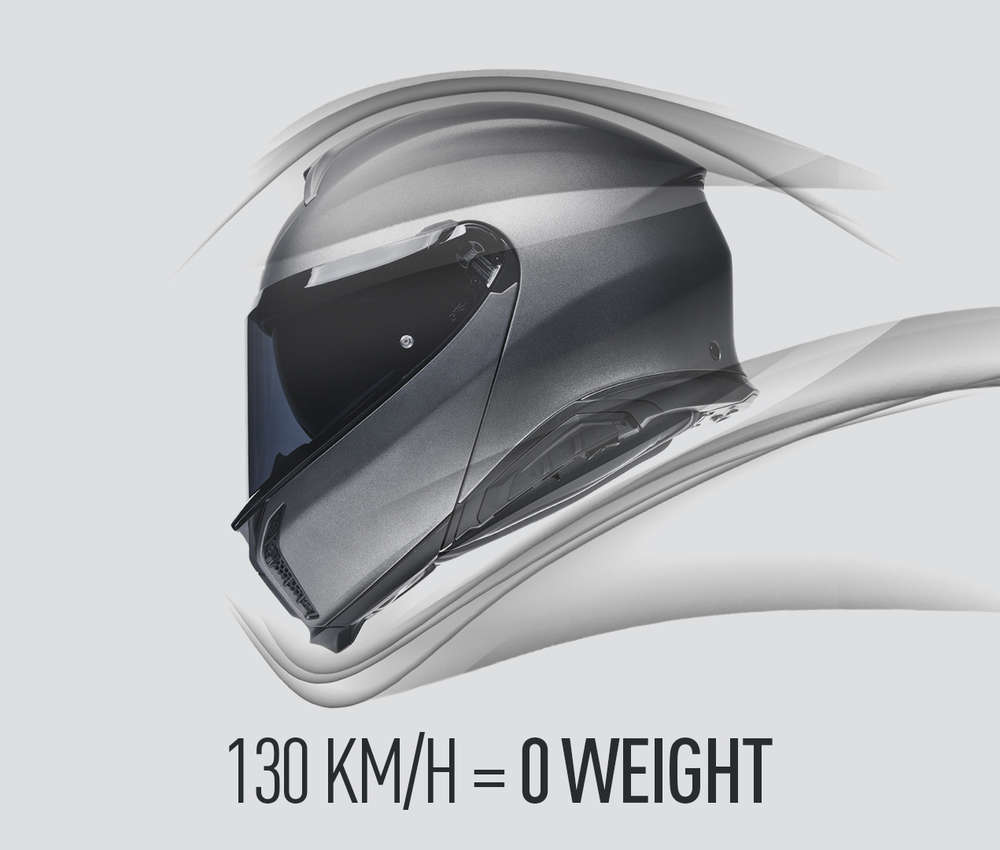 DESIGNED BY THE AIR
75 years of leadership in racing helmets have taught us that air is a precious ally for motorcycle riders. The Tourmodular design guarantees minimum aerodynamic resistance, and makes the most of the lift to obtain zero Z-Lift at cruising speed. What does it mean to you as a rider? That at a speed of 130 km/h the helmet has a dynamic weight of zero.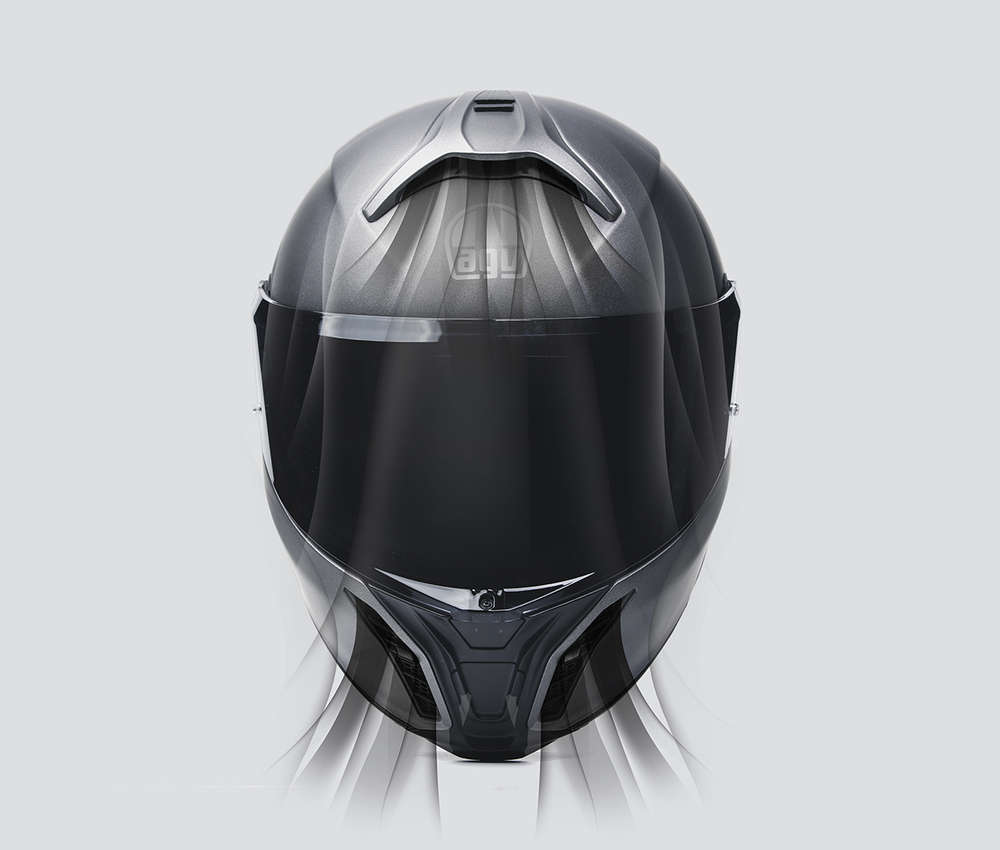 2253 mm2: VENTILATION REVOLUTION
3 large air vents at the front, 1 wraparound vent on the top, 16 air extractors channeled through the inner shell, for a total of 2,253 mm2 ventilation surface on the helmet. Much, much more than any other modular helmet. For maximum inner climate adjustment.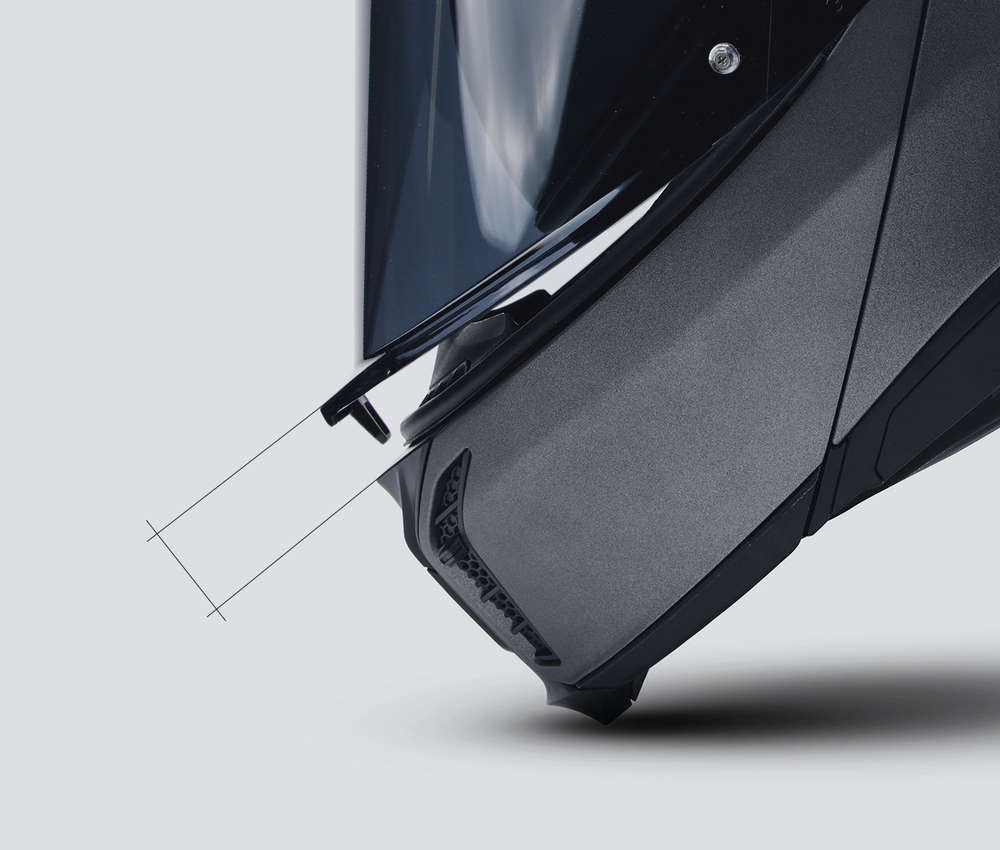 TRAVELING WITH THE VISOR HALF-OPEN? THAT'S THE

BEST WAY.
The visor's micro opening is an AGV exclusive feature: The right level of ventilation while riding, with the confidence of a locked visor. Remember when you couldn't adjust the helmet to make it comfortable inside? Those times are now gone.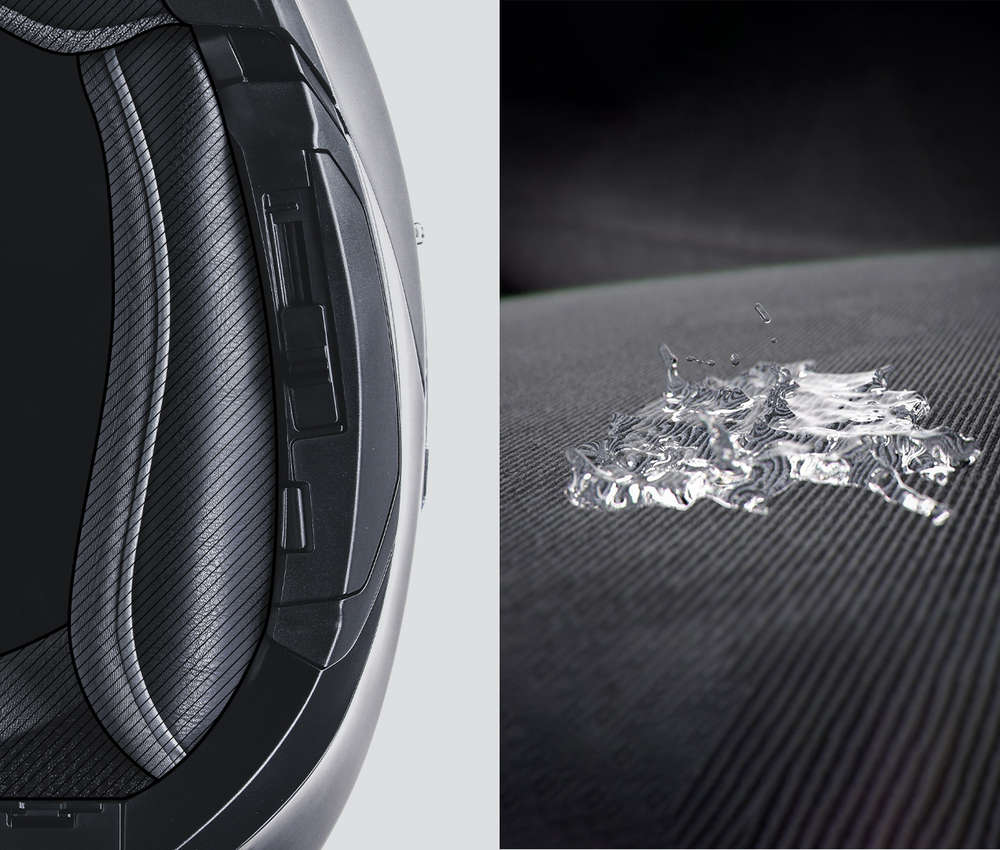 UNLIMITED COMFORT
High-quality materials never seen before. Our best selection for a soft fit that envelops your head. All this with technology that absorbs the surface moisture of the skin, leaving your head always dry, even during the most challenging trips.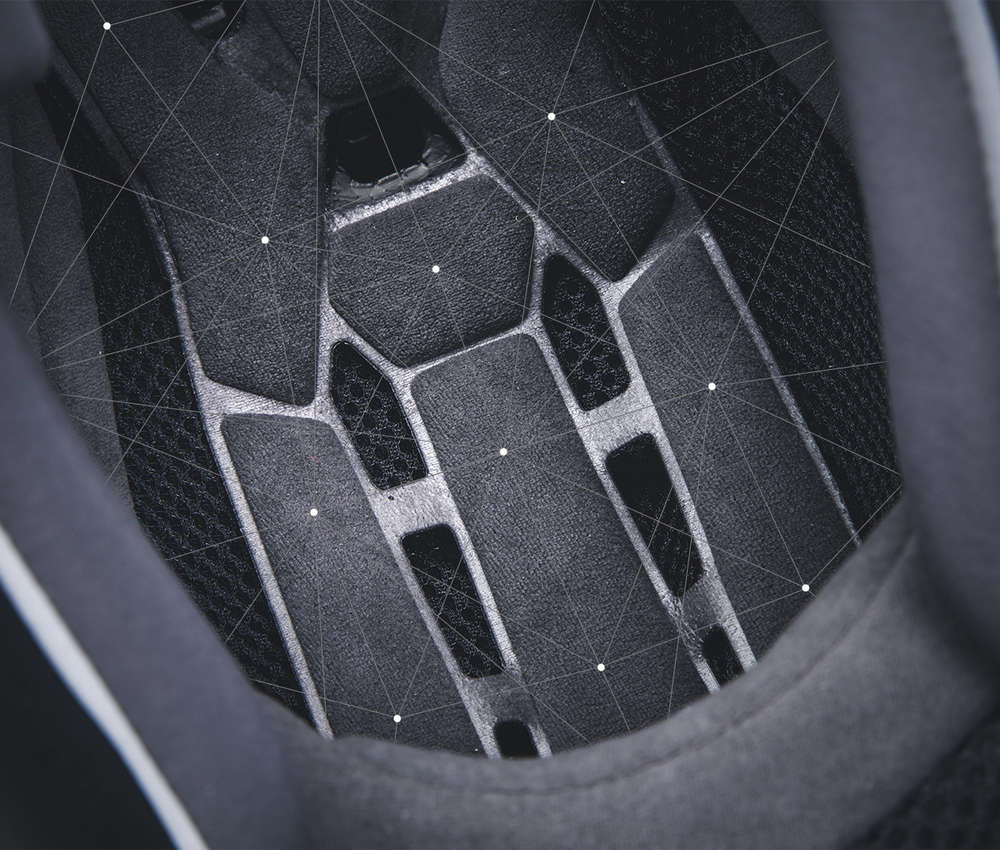 IT DOESN'T FIT LIKE A HELMET – IT FITS LIKE YOUR HELMET.
Unfasten the press studs and take off the cheek pads, insert some different ones, and fasten the press studs. This is all you need to do in order to adjust the helmet's fit to the shape of your head. Tourmodular offers 30 possible fit combinations for you to choose: We have revolutionized the way in which the inner fit can be tailored, so that your helmet feels uniquely yours.
Shop now
ULTRAVISION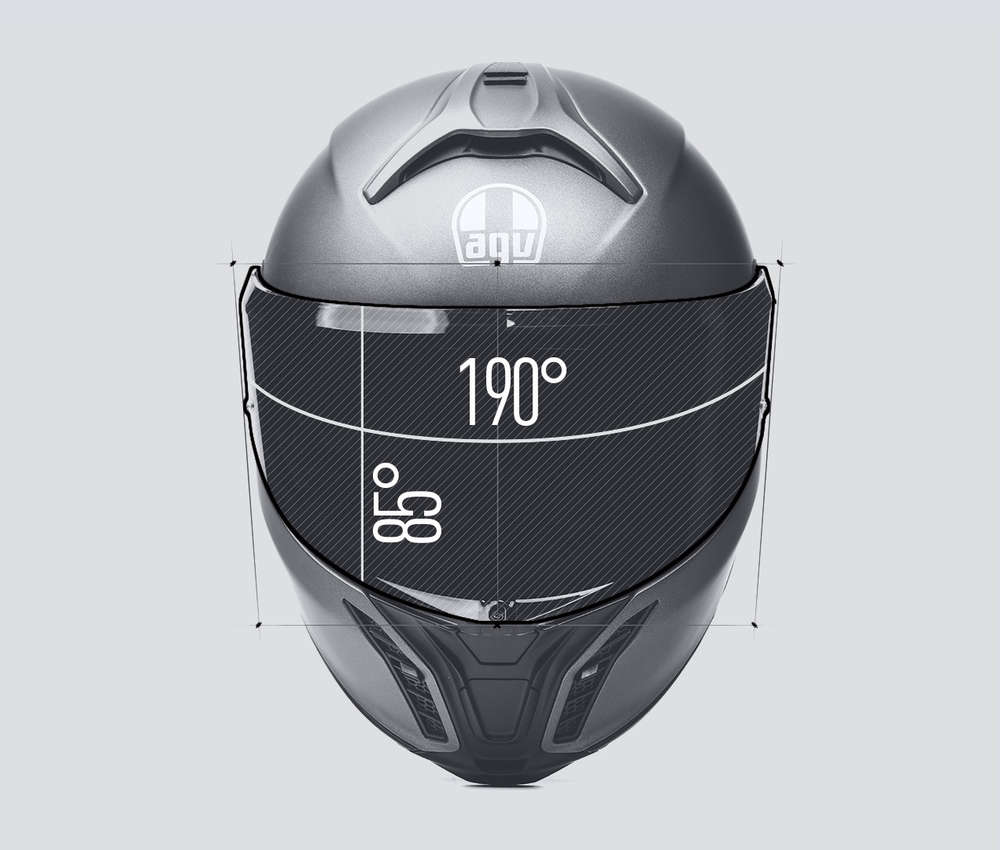 ULTRAVISION – ACTIVE SAFETY MEANS

PRIMARY SAFETY
Tourmodular is built in compliance with AGV Ultravision parameters. Its shape allows for a 190° horizontal field of vision and a 85° vertical field of vision, so as not to restrict what the eyes can naturally see. To you, as a motorcycle rider, this means being able to see more, earlier and better what's happening at the edges of your visual field and further on the road. So, you can stay focused only on your route, in any conditions. Security, always.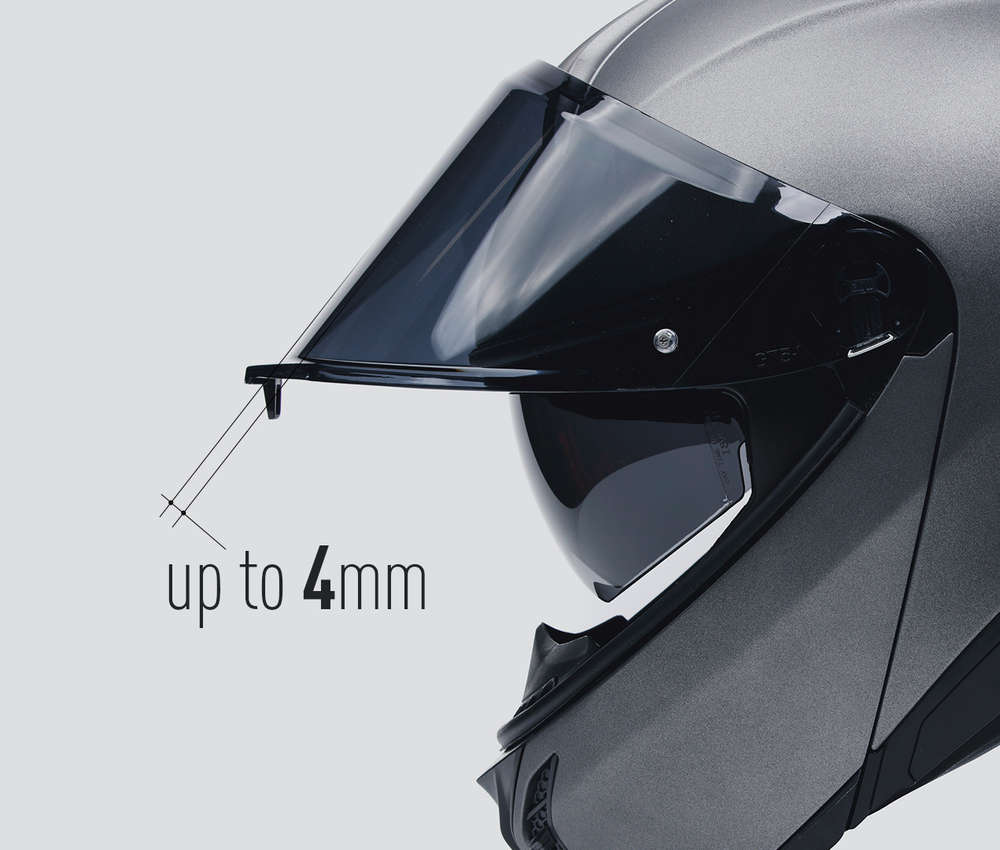 MUCH MORE THAN A VISOR
The perfect visor allows you to fully enjoy your riding experience, without any distractions, so that you can always clearly see bends and obstacles on the road. Owing to its fastening mechanism and it's up to 4 mm thickness, the visor is incredibly solid and remains stable in any situation.
Shop now
INTEGRATED COMMUNICATION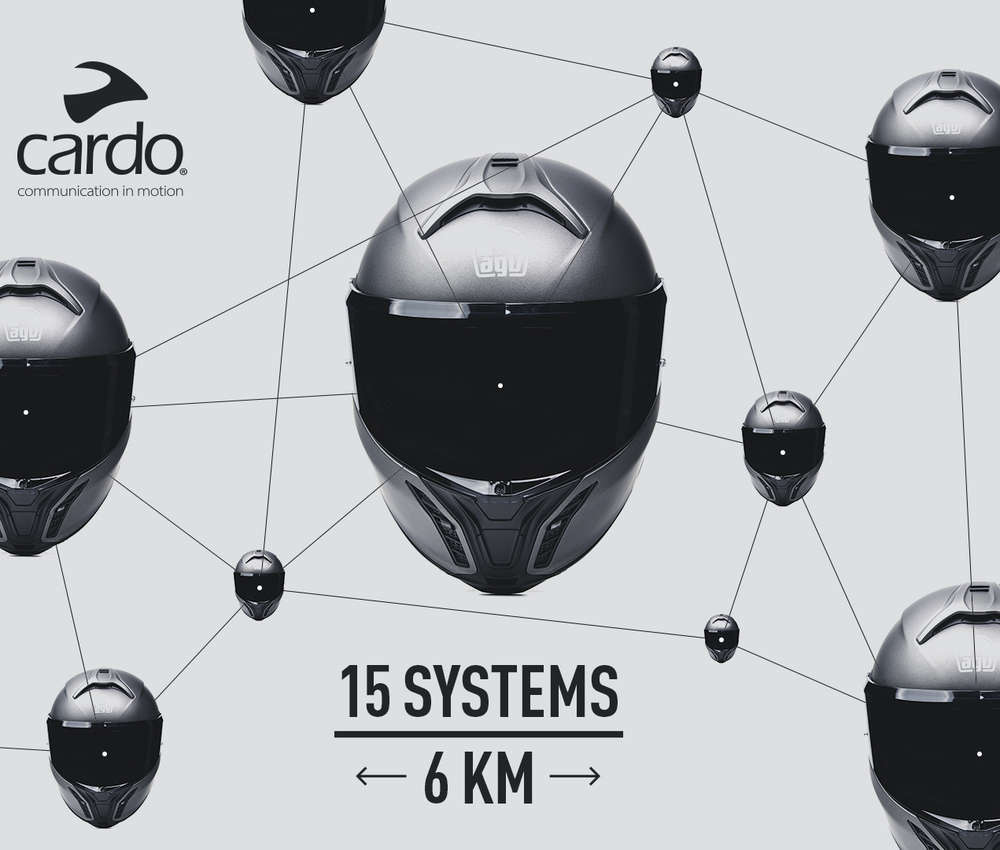 UNLIMITED COMMUNICATION WITH EVERYONE POWERED

BY CARDO.
Tourmodular is the first modular helmet with a communication system that integrates DMC technology – AGV INSYDE by Cardo: Seamless connection with up to 15 systems, at a total range of up to 6 km.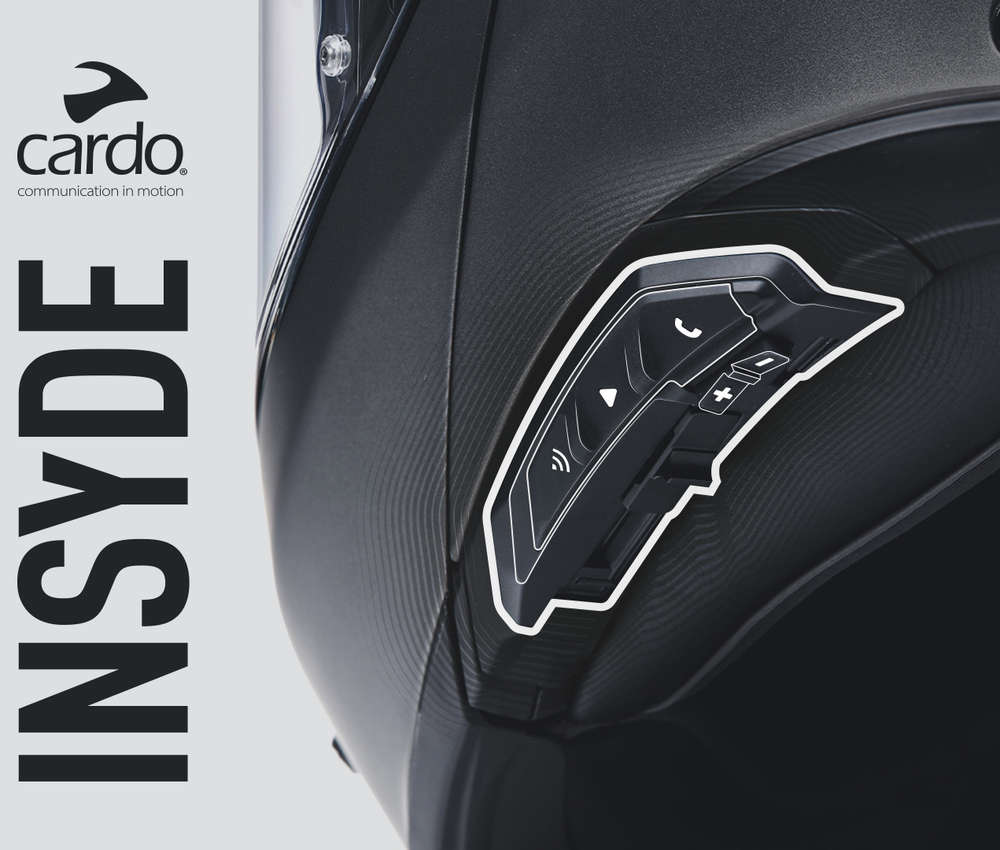 PROTECTION FOR ENDLESS JOURNEYS
The new frontier of modular helmets: Maximum safety and comfort you never experienced before, owing to the practical Cardo's first integrated DMC communication system.