K6 E2205 REPLICA - MORBIDELLI 2021
Price reduced from

€ 559,95

to
-40%
€ 335,97
K6 E2205 REPLICA - MORBIDELLI 2021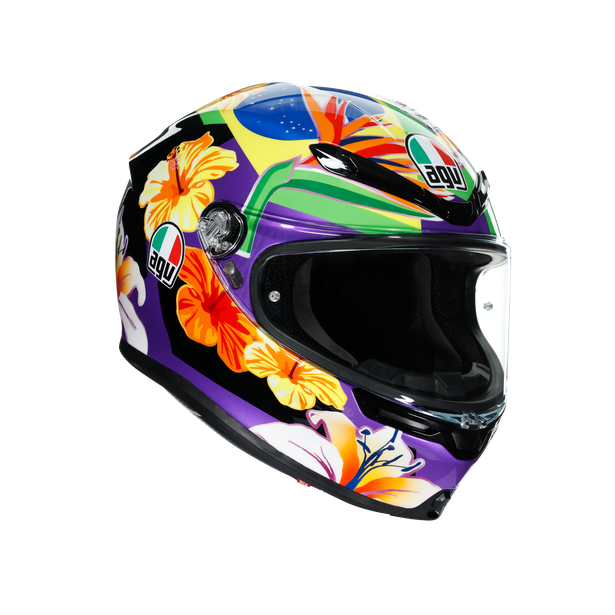 - 40%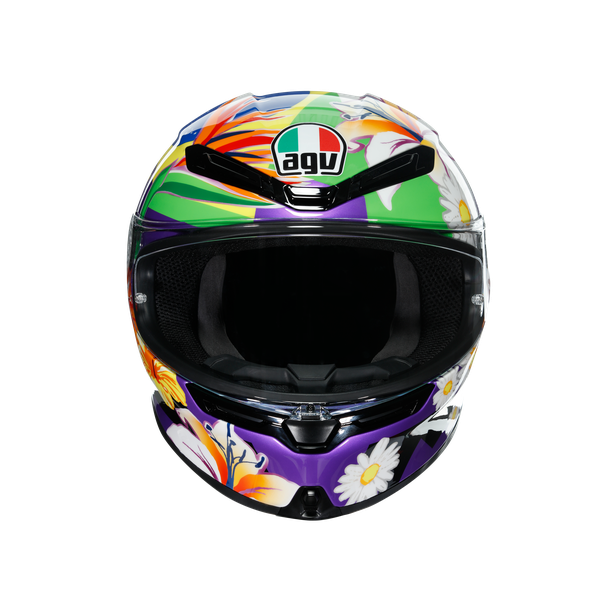 - 40%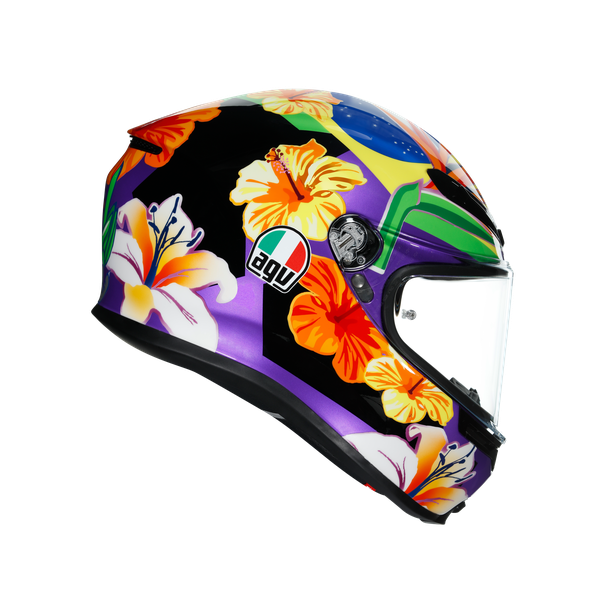 - 40%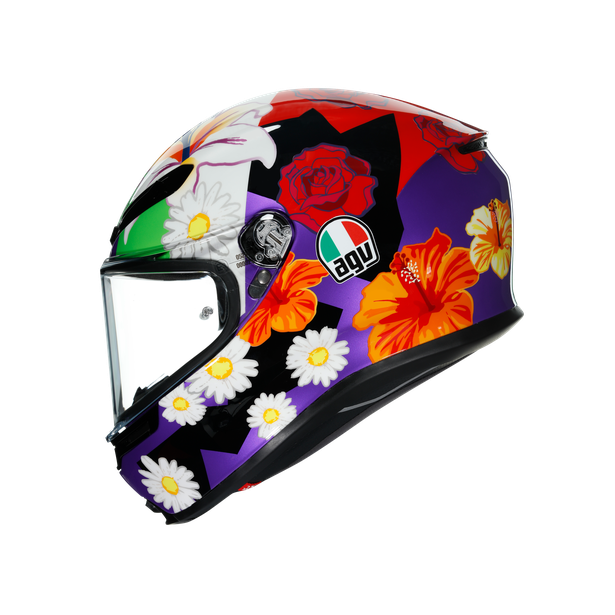 - 40%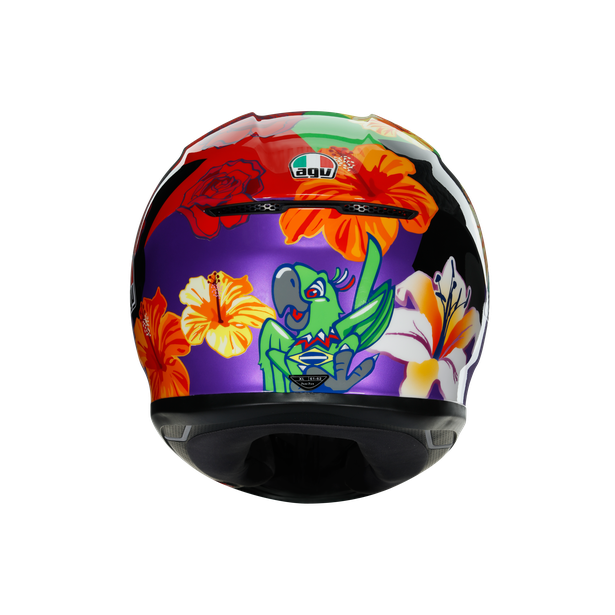 - 40%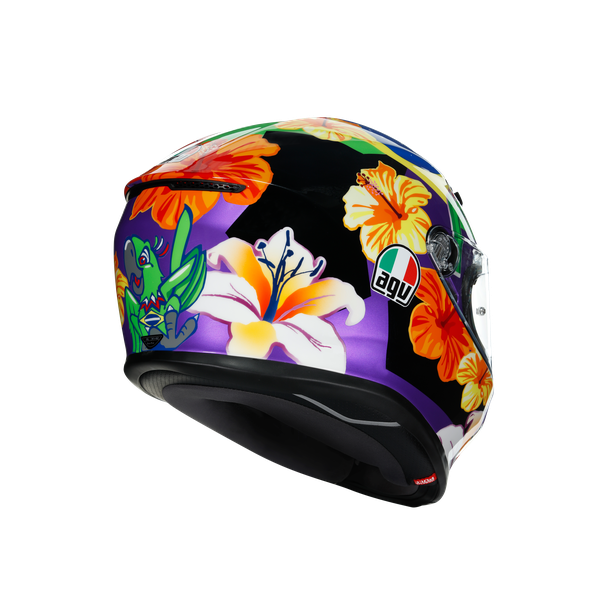 - 40%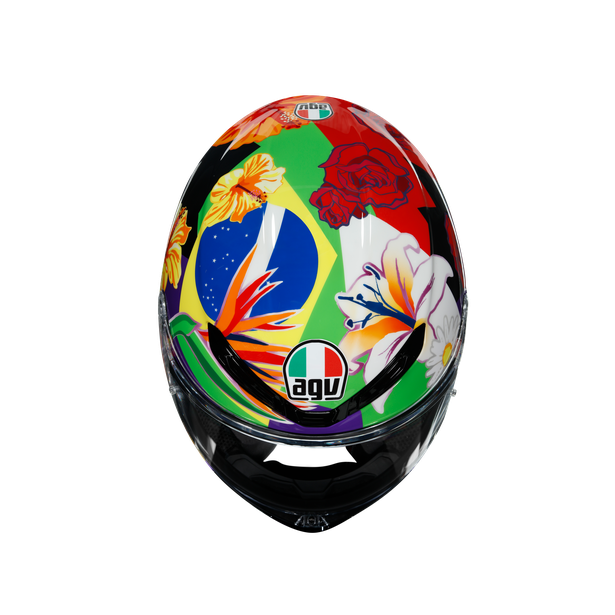 - 40%
Price reduced from

€ 559,95

to
-40%
€ 335,97
The world's lightest full-face road helmet, in a unique version inspired by Franco Morbidelli's official graphics, used during the 2021 MotoGP™ season.
Read more
BACK
The unmistakable floral graphics of the Italo-Brazilian champion for the 2021 MotoGP™ season - which has already become an icon - embellishes AGV K6, the world's lightest all-route helmet. Versatility defines the AGV K6. Suitable for every type of riding and all riding surfaces, it incorporates the best characteristics from the sport and touring worlds and is ideal for taking on any two-wheeled challenge, from leaning into the turns on winding roads to long-range trips, by way of everyday city rides. Its carbon and aramid fiber shell ensures the very best protective performance in its category and makes it the lightest full-face road helmet in the world. The aerodynamic shapes developed in the wind tunnel are optimized for ideal air penetration in any riding position, making this solution perfect for riders who want the freedom to select their own riding styles, without compromise. The premium interiors are waterproof and ventilated. They are designed so riders can cover infinite miles in total comfort with only the road ahead to focus on. The innovative air vents on the forehead and chinguard are designed for easy adjustment even when wearing gloves, which means the rider always has the right amount of ventilation. All the technology developed for professional MotoGP™ riders, in a helmet for all uses on the road. *K6 MORBIDELLI 2021 reproduces the graphics used by Franco Morbidelli in races for the 2021 MotoGP™ season, with the exception of sponsors and visor details.
BACK
CREATE THE PERFECT OUTFIT FOR YOU
Choose carefully designed clothes and accessories that will complete your look.
BACK
Select here your preferred measurement:
AGV PISTA GP RR, PISTA GP R, CORSA R, K6, VELOCE S
Size
XS
S
MS
ML
L
XL
XXL
Head Circum.

53

-

54

55

-

56

57

-

58

59

-

60

60

-

61

61

-

62

63

-

64
HOW TO MEASURE:
HEAD CIRCUMFERENCE
The circumference of the head is measured by winding the measuring tape around the head, at the point where the head is widest, at about the midpoint on the forehead, above the eyebrows.